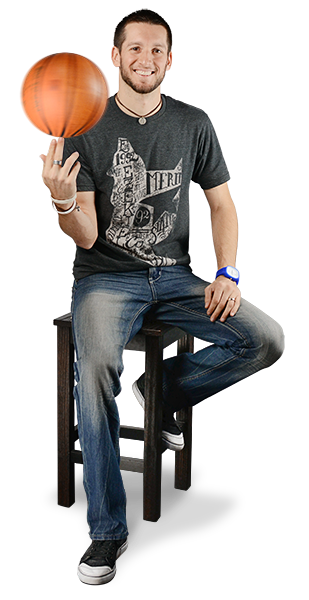 Hi, I'm Nolan Henderson.
I've loved drawing ever since being a kid. I often sketched in class and, in college, I saved my lecture notes, not for their educational content, but for the sketches. I received a degree in Graphic Communication with an emphasis in Design Reproduction from California Polytechnic State University, San Luis Obispo. I began designing at Clever Concepts in Paso Robles in the summer of 2007.
I can often be found spending time with my wife and five kids, playing my guitar or piano, reading my Bible, shooting hoops, or watching a good movie. Mat Kearney, NeedtoBreathe, Thousand Foot Krutch, Matt Boswell, Getty Music, Sovereign Grace Music, and many others can often be heard coming from my headphones as I design. God's creation and others' works of art & design help inspire my own creativity.
I started out over 20 years ago with the mindset that each creative project should be a unique piece of art. I'm always focused on the client and creating a design that will go past the ordinary and temporary. Something special that will stand out from the rest and last longer than a trend. I began doing art and design in 2002 and fashioned my artistic identity, Eternalvision Design, in 2005. The name Eternalvision is derived from II Corinthians 4:13-18.
For over 15 years now, I have worked at Clever Concepts of Paso Robles creating websites, brand identities, label designs, print collateral, shooting product photography for the wine industry, and more. From Paso Robles graphic design to San Luis Obispo graphic design, I serve the Central Coast as a graphic designer for Clever Concepts. Whether you're looking for a new identity or brand, label design, print collateral, website design, graphic tees, or photography, here you'll find a sampling of my work - each piece unique, with a purpose and a message. Take some time and browse my art and graphic design portfolio, enjoy the artwork, and contact me at Clever Concepts if you're interested in my work. Check out cleverconcepts.net for a more complete portfolio. San Luis Obispo and Paso Robles based graphic designer, creating art ranging from print design, logo design, website design to photography and clothing.